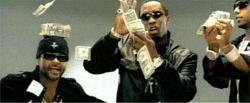 Do you ever feel like the more money you make  The more money you spend. Is your goal to save money? Then the spending tracker might be the right tool for you. I have been using this tracker only to discover all the places and things I want is not what I am spending money on. That extra coffee at Starbucks. I'll just stop at this sale and see if its a really good item, however I won't purchase it. I purchase it anyway and then....what a shocker I've spent my whole pay check on nothing that is on my goal list.
Are you a bride about to plan your wedding and need an easy way to keep you on track? Worried about money, the wedding, the honeymoon, the bridesmaids gifts, the mom's gifts and all the little extras the weddng book you are usinging didn't tell you about.  Now is the time to take control of your finances. Worried that the knowledge will change you? It will and its okay. Your about to get married and that will change your life. Having control over your finances will totally empress your future husband or why. There is nothing better than being in a relationship with a person who understands money and spending. 
I am not saying this will make you money. It won't do anything you don't want it to. This spending tracker is only as good as the person using it. You must know your monthly budget. You must figuire out what is acceptable to spend per month. I'm not saying you have to nickle and dime yourself. 
This month I have 1000 cash spending out of that money I have to pay the following bills. that leaves me 500 for the misc things that come up and for lunches, dates, and just having personal time.
This month I can only charge 250. on my credit card, due to the fact I purchased to many online thngs last month and therefore I have to make double payments if I am getting out of debt. 
This month the checking account amount I can spend is ............. you understand the point. With all that being said. I would like you to try MK Pure Diamond Events spending tracker for the cost of three dollars and eight cents. Yes, that's correct. $3.08 Why so economical, you ask.
If you are interested in this product. Email Maria Kamon(c)TM at mkpurediamondevents@gmail.com. I'll invoice you. When the product is paid for. I will then send you a pdf for you to print. Again the cost is $3:08.  The store of product like this will be opening later this month. 
This is why. I have been using this tracker for a couple of years now perfecting it. I am a busy woman and always on the go. I enjoy eatting out as much as the other person. However, I found that the little things I purchase here and there are not as important to me as the money I am spending on it. Meaning, although I enjoy my purchases, my goals and priorities changed when I discovered how much money I was spending. 
All you have to do is download the pdf file print twelve copies one for each of the months, times the number of things you want to track. trim to size and place in your planner, organizer or agenda. When you stop to eat, your getting ready to pay, just pull your planner out and write it down. Ha! Ha! Ha! LOL in a perfect world that's how it would work. What I do is ask for a receipt and write it down when I get to the office or home. Sometimes, it has to wait til the end of the month. The put the receipts in an envelope. I always keep one on my desk with the current month. At the end of the month take 10 total the columns, highlight the tax deductible items and staple them to the spending tracker. The non-taxable items receipts staple together until the end of the year. Just incase you have to return an item.  It is a win win. You know where your receipts always are. You know where your tax deductions are and you mess free. 
Since I started this while writing a book and would appreciate your comments. Will you email me a note, or send a message through the website chat on what you things of it and how it has helped you. I hope to have this as an insert in my book. The Wedding Planning Planner a book for DYI brides and grooms in planning your day. 
It will be at the website soon, so keep checking back!
Thank you!